Product Announcement
Sword & Shield - Arceus VSTAR Premium Collection revealed
Arceus
Pre-Release
Premium-Collection
Sword&Shield
VSTAR
A new Premium Collection featuring Arceus VSTAR has been announced
Another Premium Collection has been announced and it is all about Arceus VSTAR.
The box will be released on the 30th of September and will contain 10 booster packs, Arceus V and Arceus VSTAR card, a big jumbo Arceus VSTAR card, and an acrylic VSTAR Marker and an online code for the Pokémon TCG Online game.
From the image we can see which boosters will be in the box:
The box contains great boosters from good sets. The Cosmic Eclipse is especially interesting as it is a Sun & Moon series set and not from the Sword & Shield series. Also, the price of a Cosmic Eclipse booster is 9,00 € on Cardmarket (checked: 23.08.2022).
The price is at the moment unknown as there are no shops listing this product yet, but it might be around $49.99. This product will be sold exclusively on Amazon.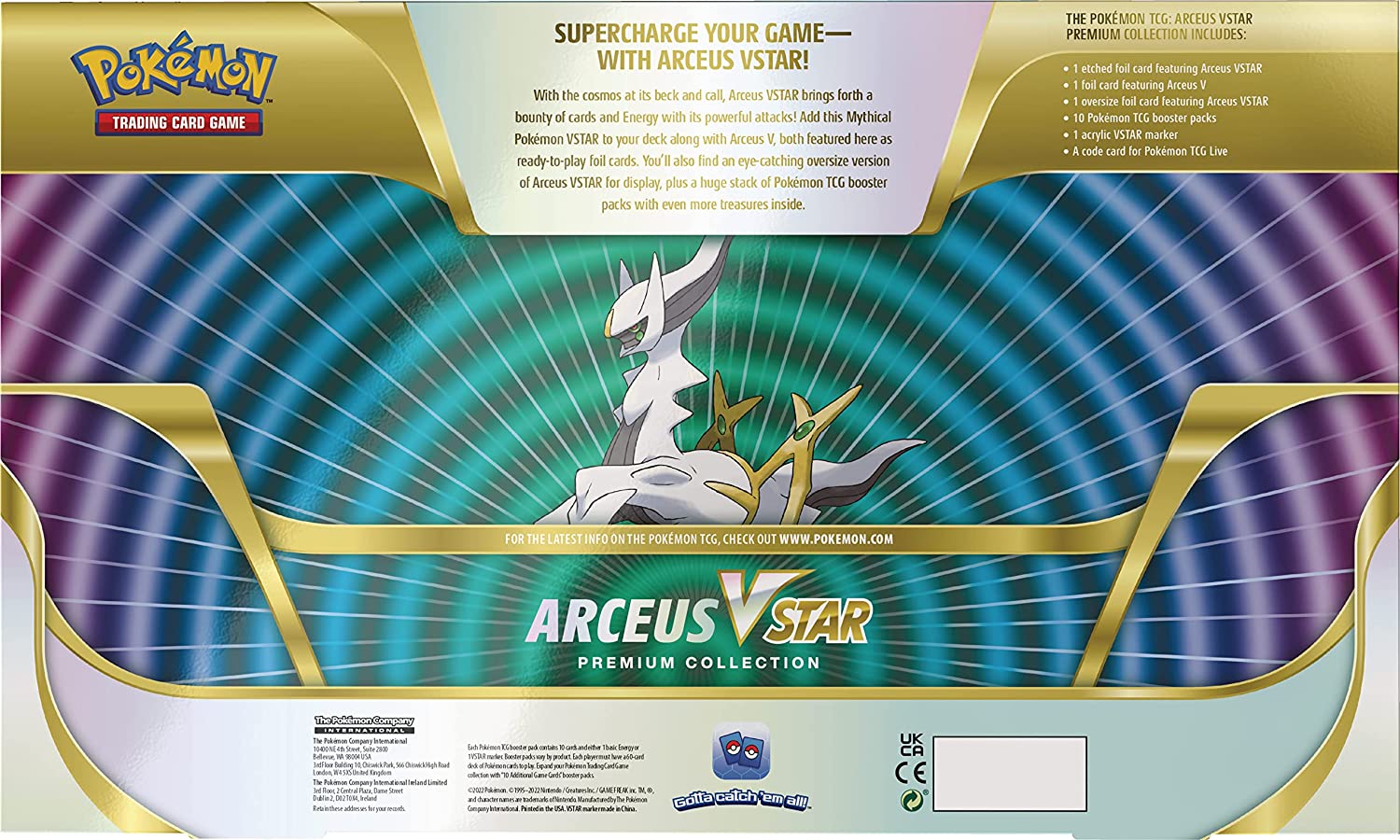 Box Details
SUPERCHARGE YOUR GAME WITH ARCEUS VSTAR!
With the cosmos at its beck and call, Arceus VSTAR brings forth a bounty of cards and Energy with its powerful attacks! Add this Mythical Pokémon VSTAR to your deck along with Arceus V both featured here as ready-to-play foil cards. You'll also find an eye-catching oversize version of Arceus VSTAR for display, plus a huge stack of Pokémon TCG booster packs with even more treasures inside.
THE POKÉMON TCG: ARCEUS VSTAR PREMIUM COLLECTION INCLUDES:
1x etched foil card featuring Arceus VSTAR
1x foil card featuring Arceus V
1x oversize foil card featuring Arceus VSTAR
10x Pokémon TCG booster packs
1x acrylic VSTAR marker
1x code cord for Pokémon TCG Live